Here's a story of a lovely lady....Oh that sounds too much like the "Brady Bunch". I am dating myself here. This beautiful remount is
generations of love
all wrapped into one. I can't say enough about this wonderful couple. And she was our VIP winner at Christmas! Certainly a "blingy" Holdiay Season! Enjoy and dream!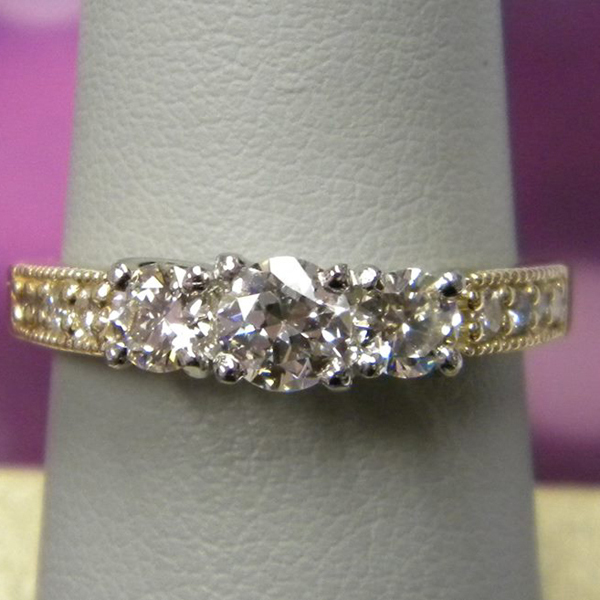 Three larger diamonds set in white gold prongs very close together. An antique style shank with pavee set diamonds and a milgrain edge add to the detail.
VIEW FULL ENTRY
AT: 01/18/2018 02:48:43 PM
0 COMMENTS
Wednesday, November 01, 2017
by Diana Jewelers of Liverpool
Navigating the world of engagement rings can be confusing, so going into the store as informed as possible about what you (or your future bride!) want in terms of not only the cut, clarity, and color of a diamond, but also the style and story behind it, can make things a lot easier when looking at types of engagement rings. There are countless engagement ring styles out there, so we at Diana Jewelers of Liverpool, NY have broken down the basics to help you make the perfect selection!
If your fiancée prefers something a bit more unique, the oval-shaped Marquise cut, ending in points at the top and bottom of the diamond, is right for her. If she'd like an oval shape with more rounded edges, then the Cushion cut (sometimes called the Pillow Cut) is more ideal.
AT: 11/01/2017 04:22:31 PM
0 COMMENTS
Friday, October 27, 2017
by Diana Jewelers of Liverpool
This is a story of the creation of an incredible "
Happy Anniversary" ring
. This is special because it illustrates what can be done with a client's vision of her perfect ring. She couldn't find it anywhere and when she came to us seemed a bit discouraged; willing to "settle". I wouldn't let that happen. We designed the ring she imagined. So exciting! The combination of yellow and white in a simple twist, frames the 6 original diamonds from her wedding band. And the matching band slips perfectly into the engagement ring. An awesome couple! God Bless you both and many years of happiness to come!
AT: 10/27/2017 04:30:36 PM
0 COMMENTS
Friday, October 20, 2017
by Diana Jewelers of Liverpool
AT: 10/20/2017 04:40:42 PM
0 COMMENTS
Friday, October 20, 2017
by Diana Jewelers of Liverpool
AT: 10/20/2017 04:18:34 PM
0 COMMENTS
Thursday, October 19, 2017
by Diana Jewelers of Liverpool
AT: 10/19/2017 04:19:10 PM
0 COMMENTS
Monday, October 09, 2017
by Diana Jewelers of Liverpool
AT: 10/09/2017 04:27:54 PM
0 COMMENTS
Friday, September 29, 2017
by Diana Jewelers of Liverpool
AT: 09/29/2017 04:07:01 PM
0 COMMENTS
Friday, September 22, 2017
by Diana Jewelers of Liverpool
AT: 09/22/2017 06:22:34 PM
0 COMMENTS
Thursday, September 14, 2017
by Diana Jewelers of Liverpool