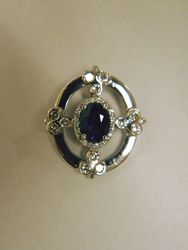 A husband of over 50 years came to us with a blue sapphire that his wife inherited from her mother.
For their anniversary, he wanted to put it in a pendant that represented the beautiful family that they have made.
The 4 diamond "crosses" on the sides of the sapphire represent their 4 children.
This was a lovely way to incorporate multiple generations into one beautiful pendant.