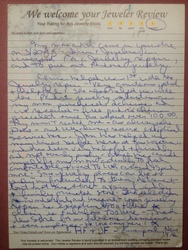 My mom and I came in your store on 3/20/13 – Diana's Jewelers in Liverpool for a Jewelry repair, and to pick out random jewelry.
Chris helped us 1st with the Jewelry repair - very courteous, patient and helpful. She also helped us write the Pandora Jewelry selection as my mom purchased 2 charms and we received a free Pandora charm bracelet since we spent over 100.00. My mom treated me - as always she does - and we always receive exceptional service here. Jan has helped us many times before here at Kris location, and has been very helpful and friendly and not overly pushy. Which has caused me and my mom actually to feel comfortable and want to look around and spend more. Some jewelry places can be so pushy, unfriendly to their detriment but not Kris Store, a very friendly and family oriented store. The selection is wonderful and unique - your jewelry repair is exceptional 100 and the cleaning is fabulous too here. Trust this store for a fabulous demeanor and store employees- We love coming here!
— HF + JF of Liverpool, New York
At Diana Jewelers, we are proud to carry
Pandora jewelry
for our customers in and around Liverpool, NY. You can find a huge selection of beads and charms that never go out of style. We can also help you with jewelry repair and cleaning. View more of
our services
here and take advantage of our special offers.