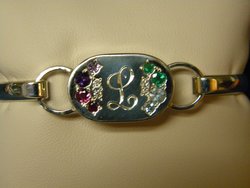 This is a great redesign story using two Mother's rings as the inspiration.
Our client wanted all of the stones in one piece of jewelry, and thought she would wear a bracelet.
We suggested the convertible clasp bracelet as the starting point for the redesign setting each child's birthstone in one corner.
The Mother's initial was placed in the middle with the large and small stones placed on either side. It was a big hit with everyone!