Here's a new remount pendant story. A client had a unique mother's ring with three marquise colored gemstones surrounded by diamonds. The marquise center stones were held by only two prongs each and loosened repeatedly. The small diamonds also loosened. The solution? This beautiful heart diamond pendant used all her stones and made this one of a kind mother's pendant for this lovely lady. The heart slides on an adjustable box chain allowing her to adjust to any length up to 22". I look forward to seeing this couple again but not to tighten her stones. Enjoy this new idea for celebrating MOM.
AT: 01/09/2018 07:52:47 PM
0 COMMENTS
Sunday, October 15, 2017
by Diana Jewelers of Liverpool
This is a wonderful story of a couple celebrating their anniversary of over 30 years. Both their original wedding bands are entwined together making a
pendant that slides on an adjustable chain
. You can still see the engraving! Jim soldered ring closed and re-brushed them. They look brand new!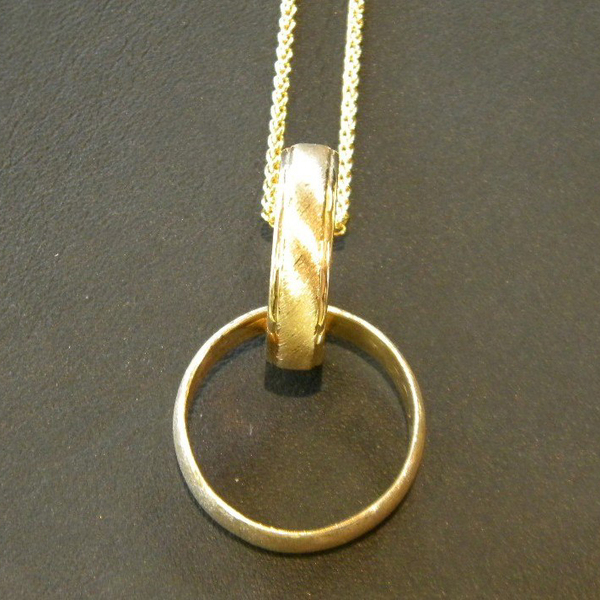 AT: 10/15/2017 03:59:46 PM
0 COMMENTS
Saturday, October 14, 2017
by Diana Jewelers of Liverpool
This is a gift of rings from grandmother to granddaughter which were transformed into a
new pendant and ring
. She will always have her grandmother with her. A simple style that will be in style for generations. She has both ring and pendant to remind her of her Grandmother. This story touched my heart. I know how our daughter feels about loosing my Mother so I can appreciate this young woman's love for her Grandmother. This is a great example of the value of sentiment. She really wasn't concerned on the identity of the stones. She simply wanted to wear them.
AT: 10/14/2017 03:43:39 PM
0 COMMENTS
Friday, September 08, 2017
by Diana Jewelers of Liverpool
A client came in with her original loose diamond, a diamond pendant, a pair of diamond earrings,a diamond ring and a pendant enhancer. The loose diamond is now a beautiful solitaire pinkie ring and the pendant and earrings?...Take a look at the "antique" inspired pendant she created. For the pendant, we used existing settings but fashioned them together in an nontraditional way.
So elegant
. And there is a ring coming next...so stay tuned...more to come! bb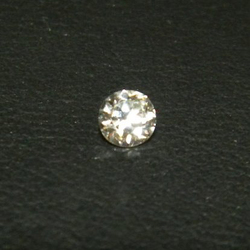 This single diamond was the client's first diamond from her engagement ri...
VIEW FULL ENTRY
AT: 09/08/2017 07:19:39 PM
0 COMMENTS
Saturday, July 29, 2017
by Diana Jewelers of Liverpool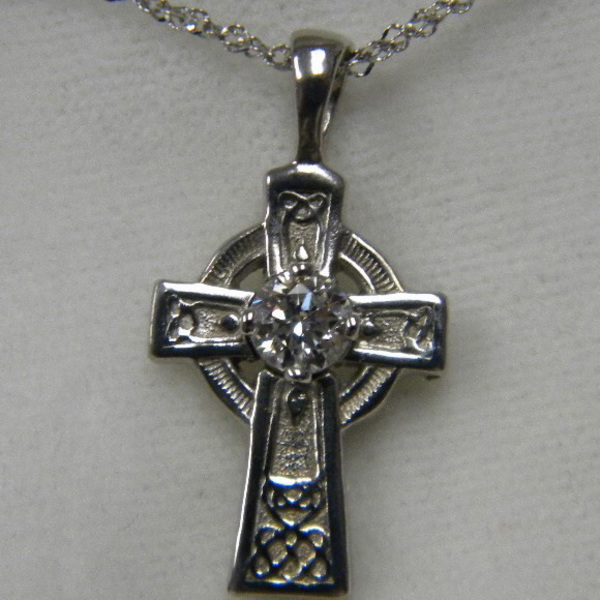 Happy Sunshiney Saturday everyone! Sharing this story warms the heart. A wedding gift from mother to daughter combines the bride's Irish heritage with her grandmother's diamond. There is nothing like jewelry to keep generations alive.
This cross is sterling silver
, with the diamond set in white gold prongs. Have an awesome day!
...
VIEW FULL ENTRY
AT: 07/29/2017 03:02:33 PM
0 COMMENTS
Sunday, May 14, 2017
by Diana Jewelers of Liverpool