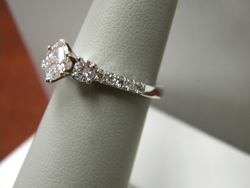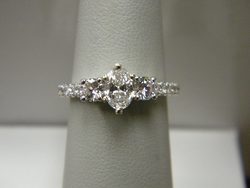 Here's a beauty to add a little extra sunshine to your weekend!
This awesome couple came in wanting to reset her center diamond and side diamonds. In our conversation, the "Mr." told his "Mrs." of 25 years he would like to get her a new diamond as a center stone.
The result?
Her original diamond as one side stone, matched to another new round diamond; her small side diamond from a wrap in the band of the ring and the new addition, a beautiful oval diamond for the center.
Notice the scallop pattern on the edges. Truly takes your breath away!
Enjoy and God bless this great pair...bb