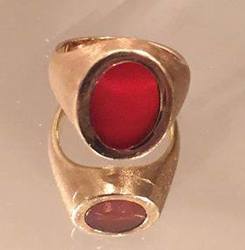 Years ago my Dad hired a young man of 16 who impressed him with his enthusiasm and respectful manner.
This young man admired a gold sardonyx ring in the case and, at my Dad's suggestion, put it on layaway.
When he found the "woman of his dreams", married and was planning to move away from Syracuse, his brother was upset.
They had an unbreakable bond; actually step brothers in name but truly brothers in heart. He took this ring off and gave it to his brother.
Fast forward 34 years to the heart wrenching decision of putting this beloved father into assisted living for Alzheimer's. Again, a difficult time for all but especially for his brother.
Our friend found another ring this father gave him years prior and thought it would be the perfect time to give it to his brother.
So at a family celebration,he gave this ring to his brother. His brother immediately gave the "Diana's" ring back. And when he looked inside, he saw the initials he engraved years ago; his brother's and his.
Simply stated, when we say we love your stories, we sincerely do. Jewelry connects us through generations, through every emotion. Our friend's sentiments brought him back to working with Dad, and most especially, his love for his incredible father, brother and family.
(ps. thanks"R" for sharing this story)😊