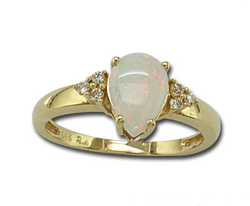 Natural Opal and Diamond Ring
October's birthstone is opal. When we think of October, we think of the change of seasons from the hot and sweltering summer to the cool and comfortable fall. We think of the leaves in the trees, turning for a uniformed green to an array of individual colors. This colorful transition makes opal the perfect birthstone for October, and makes opal jewelry the perfect gift to give in October. The reason for this is the opal's unique play of color.
As opals are passed through light, they can appear as a number of different hues, including various shades of red, green, and blue. In order to bring out this play of color, jewelers have created the triple-cut and doublet opal. Both are created by taking a thin slice of opal and placing it onto a darker mounting, like obsidian. Used for years, this technique has made opal jewelry such as opal rings, opal earrings, and opal necklaces, even more stunning and awe-inspiring.
Opal's play of color is gorgeous in the same way that fall's colorful foliage is. Visit our store and our knowledgeable staff can help you choose the perfect opal jewelry to complement this gorgeous season.
Opal Jewelry Showcase

Natural Opal and Diamond Pendant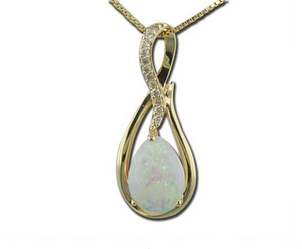 Australian Opal and Diamond Earrings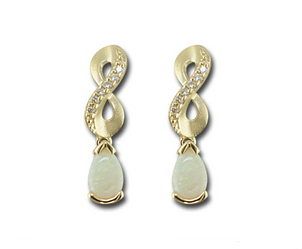 Australian Opal and Diamond Ring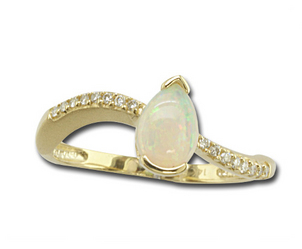 Australian Opal and Diamond Pendant