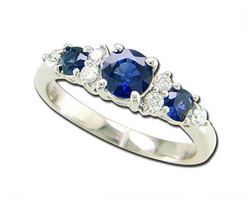 Sapphire and Diamond Ring
Sapphire is September's birthstone. The word sapphire comes from the Greek word "sappheiros", meaning "blue stone". When most people think or talk of sapphires, they imagine this blue stone. This blue color has been valued for centuries. Throughout time sapphire rings and sapphire necklaces have been worn because the sapphire's pure blue color was thought to be associated with the gods and heaven. Today, the value of sapphire jewelry is directly tied to the intensity and clarity of this blue color. However, sapphires come in a number of colors, all gorgeous and valuable in their own right.
Yellow and green are also common colors for sapphires; their values are determined on the intensity and clarity of those colors. Another common color is pink. Chromium inside the sapphire creates the pink tone and the more chromium present in the stone, the pinker the sapphire appears.
There is a specific kind of sapphire called the padparadscha sapphire. It is extremely rare and found in Sri Lanka, Vietnam, and parts of East Africa. Its name is derived from the Sanskrit for "lotus color," because this sapphire's color resembles the colors of the lotus flower.
Another rare sapphire is the color change sapphire. This sapphire appears to change colors when viewed in daylight and incandescent light. Some appear blue in natural light and appear purple in artificial light while others appear green in daylight and pink in incandescent light. Two impurities, chromium and vanadium, cause these color changes.
Sapphire Jewelry Showcase

Pear Blue Sapphire and Diamond Wedding Ring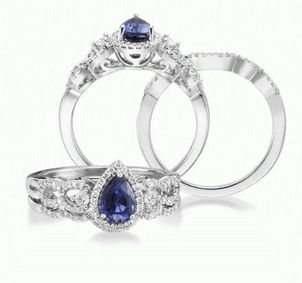 Blue Sapphire and Diamond Pendant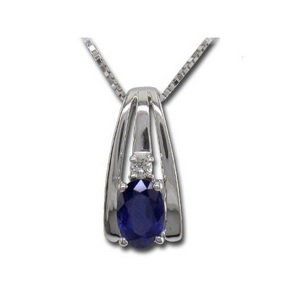 Graduated Blue Sapphire Hoop Earrings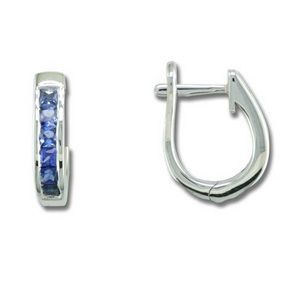 Simulated Diamond/Lab Grown Sapphire Stud Earrings