Item SKU:
02-02-17-2-02-02
Sold Out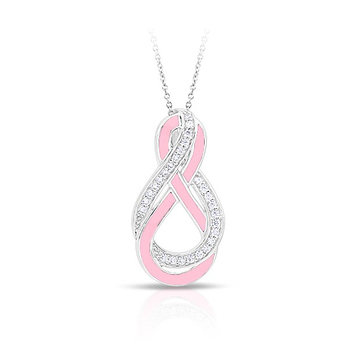 Description
Capture the spirit of forever with the Evermore Collection by Belle Étoile. Gorgeous hand-painted Italian enamel and pavé-set ribbons of sterling silver interplay with each other to create a truly classic look. Symbolizing everlasting love and hope, the Evermore Collection is timeless.

This October, Belle Étoile will be supporting Breast Cancer Awareness through a special limited edition collection. Evermore by Belle Étoile will feature an exclusive hand-painted pink Italian enamel coloration available starting in the month of October for this special promotion. With every purchase of the pendant, Belle Étoile will donate 20% of the proceeds to the Breast Cancer Research Foundation to fund breast cancer research.

Description: Hand-painted pink Italian enamel with pavé-set stones set into rhodium-plated, nickel allergy-free, 925 sterling silver.

*Chain sold separately.